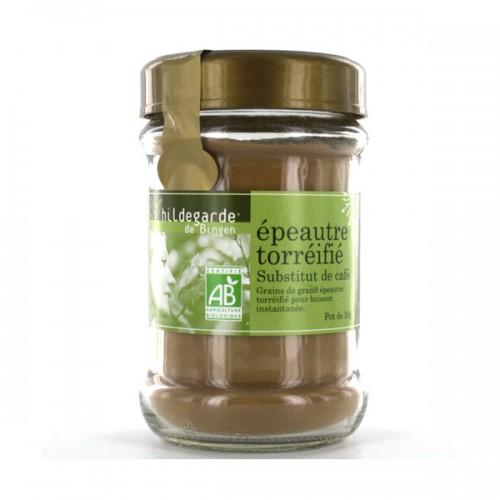  
Spelt Coffee
Roasted Organic Spelt Hildegarde de Bingen
This roasted spelt coffee for instant drink tastes almost like regular coffee! It even overshadows the freeze-dried coffees found in supermarkets, which often taste more like water than coffee.
Rich in magnesium and phosphorus, roasted spelt is a reconstituting and digestible drink. But the considerable advantage of spelt coffee is that it is caffeine-free. Ladies, if you are pregnant, you finally have something to replace your morning coffee with.
An excellent dietary supplement, its content of amino acids, carbohydrates and proteins make it an exceptional decaf, to be discovered urgently! Thanks to its high magnesium content, it is a perfect ally in the fight against stress. During exam periods, spelt coffee is therefore widely recommended.
Directions for use : Put a full teaspoon of roasted spelt per cup and fill with 200ml of hot water. The recommended dose for maximum benefit per day is 1 to 2 cups.
Ingredients : Large spelt* (Triticum spelta L.) (gluten) unhybridized, roasted.
*Product from organic farming.
Jar of 50 g.
Data sheet
Type :

Coffee substitute

Universe :

Zen

Brand :

Hildegarde de Bingen

Preference :

Natural

Ingredients :

Grand épeautre* (Triticum spelta L.) (gluten) non hybridé, torréfié. *Produit issu de l'agriculture biologique.

Certificates :

Agriculture biologique AB

Allergens :

gluten
steavisgarantis
steavisgarantis
10/10

steavisgarantis 1 steavisgarantis
Excellent product. Delivered on time.
12 other products in the same category: