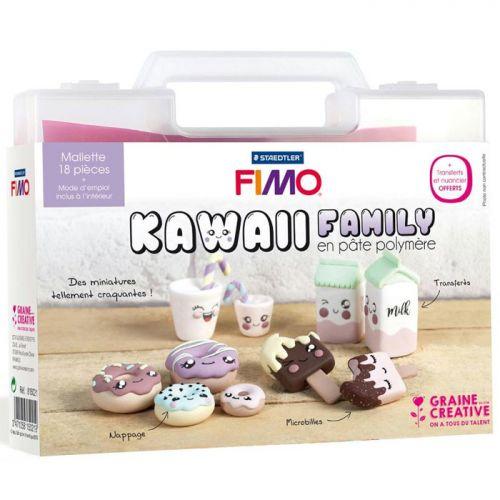  
Kawaii modeling case - polymer clay
Polymer paste pastry case
Modeling box.
This easy polymer paste modeling kit contains all the necessary material to allow you to make Kawaii family figures too cute!
Indeed, in this box, you can especially use modeling clay to cook and various embellishments to customize your creation as you wish!
You will find 18 pieces to start in polymer paste (polymer paste bread and modeling accessories).
This Kawaii family figurine modeling set is presented in a super plastic case to let you store all your polymer paste accessories!
Once your kawaii miniatures are complete, you will be able to start a collection of small modeling figurines and create matching jewels for example!
In addition to this modeling kit, do not hesitate to buy other polymer paste breads in different colors.
You will be spoiled for choice!
This set of polymer paste Soft Kawaii family creative leisure pastes contains: 6 pieces of Polymer paste 57 g, 1 soft polymer clay pastry bread 25 g, 1 modeling mat 30 x 39 cm, 3 stainless steel flower pieces, 5 bottles of microbeads , 1 topping pencil, 1 modeling spatula.
Bake at 180 degrees for about 30 minutes.
Monitor the cooking.
1 eye transfer board and 1 color chart offered!
10 other products in the same category: