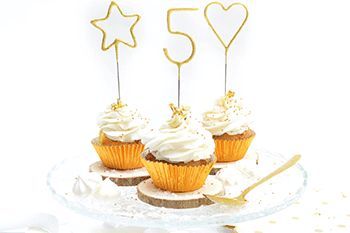 Edible glitter
Edible glitter is a type of food decoration made from edible ingredients, such as sugar and food coloring. Unlike regular glitter, which is made from plastic or other non-edible materials, edible glitter is safe to eat. They come in a variety of colors, shapes and sizes, making it easy to match the theme or color scheme of your baked goods.
Why use edible glitter?
They add a touch of glamour: Edible glitter adds a touch of glamour and sparkle to your baked goods, making them more attractive and visual. Whether you are decorating a cake, cookies or cupcakes, edible glitter will give them a festive and luxurious touch. At a princess-themed birthday party, baby shower, wedding cake or themed party, you can be sure all eyes will be on them!
Versatile: Edible glitter is incredibly versatile and can be used in a variety of ways. You can sprinkle them on frosting, mix them into batter, or even use them to decorate the edges of a cake as you dress. It's a great way to add sparkle to your baked goods without affecting the taste.
Safe to eat: Because edible glitter is made from edible ingredients, it is safe to eat. You don't have to worry about harmful chemicals or toxins seeping into your baked goods, making them a safe choice for all ages.
Where to find edible glitter?
Why deprive yourself of seeing what kind of magic you can create with this sparkling ingredient? You can find a selection of edible glitter at the best price right here!