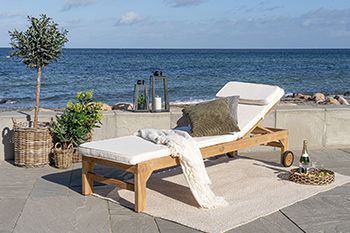 Loungers
Find our wide selection of high quality lounge chairs, ideal for relaxing and enjoying the sun in your garden or on your terrace.
Quality wooden deckchairs
Most of the products offered by the House Nordic brand are made of teak! Teak wood loungers are durable and stylish furniture that is water, sun and weather resistant. This makes them ideal for outdoor use and House Nordic's lounge chairs are no exception. They are built to last and are made with the finest materials to ensure quality and longevity. Discover also our teak garden tables or our chairs and armchairs to complete your garden decoration!
The lounge chair: the relaxing furniture!
House Nordic lounge chairs are available in a variety of styles and finishes. Some have reclining backs for optimal comfort, while others have casters for easy mobility. Whichever style you choose, you can be sure you're buying a high-quality lounge chair that will add a touch of sophistication to your outdoor space.
In addition to their elegance, these lounge chairs are also practical and comfortable. They are designed to fit all body types and offer perfect support for your body, allowing you to relax safely for hours. With optional soft and comfortable cushions available, you can customize your lounge chair for maximum comfort.