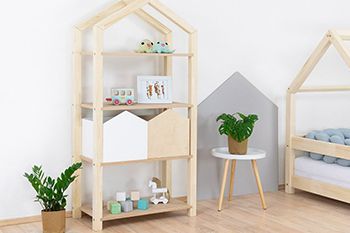 Shelves and storage furniture
Welcome to our Shelves and Storage Furniture category! We are proud to present our original and colourful collection of solid wood storage furniture.
From shelves and sideboards to chests of drawers and cabinets, all our furniture is made from solid wood to ensure strength and durability. We have carefully chosen an extravagant colour palette to add a touch of fun to your storage space.
Each piece of furniture is unique thanks to our handcrafted approach and the use of high quality materials. Our shelving and storage units are true works of art that add a touch of personality to your interior design.
We have designed our collection to meet the needs of all types of interiors. From wall shelves for narrow spaces to storage cabinets for large rooms, we have a storage solution for every space.
As well as being functional, our furniture is also beautiful and original, adding a touch of style to your home. We are proud of our collection, and we are confident that you will find the perfect storage unit for your home.
Order now to take advantage of our unique selection of solid wood shelving and storage units, with original colours and designs to suit all tastes.