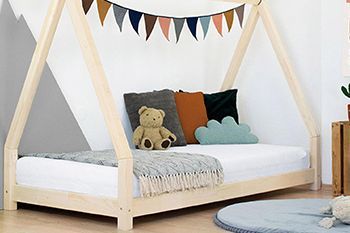 Children's beds
Find the perfect bed for your children from our range of Benlemi cabin and teepee beds! Benlemi offers a range of high quality beds, made from solid wood and 100% ecological and anti-allergic paints, to offer your children a comfortable, safe and durable sleeping space.
Which bed for child to choose?
Whether you're looking for an evolving crib for your toddler, a teepee bed for your budding adventurer, or a bunk bed for your children who share a room, we have what you need! Our children's beds come in a variety of sizes, from single to double, to fit any room. We offer beds with safety rails, with or without bed drawers, single beds close to the floor... The choice is yours! Our beds are available in many colors, including white wood, natural wood and gray wood, to fit any room style. You can add a bed bumper to make your child's bed even more secure!
Why buy a cabin bed?
Cabin beds are very popular with kids! With their playful design and sturdy structure, they provide a comfortable sleeping space and a great place for your kids to play, while stimulating their creativity and imagination. Teepee beds are just the thing for kids who love play and adventure. 
Buying a cabin bed is also a great decorating idea! Tepee-shaped beds add a nice decorative touch to a child's room.
Where to buy a cabin bed?
Our children's bed category contains a wide selection of beds for every need. You are sure to find something you like in our Benlemi bed line! All of our beds are made from high quality solid wood to ensure strength and durability. We also offer bed risers so that your child's bed will grow with them and stay with them for years!