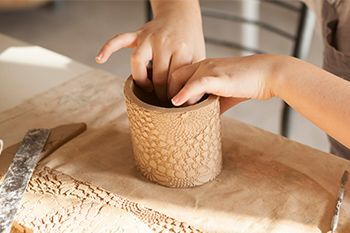 Self-hardening pastes
Self-hardening clay
Self-hardening clay is a very practical material for creating objects without the need to use an oven to dry them. It allows you to make creations without having to worry about baking, which is very convenient for people who do not have an oven or do not want to use one. Once the dough is shaped, it dries and hardens in the open air in a few hours, depending on the size of the object.
This type of clay, whether it is a classic self-hardening clay or air-drying clay, is also very economical, making it accessible to everyone. It is perfect for children over 5 years old who want to discover the joys of creative hobbies, as well as for adults who enjoy this type of activity.
With self-hardening clay, it is possible to make a wide variety of objects, such as figurines, jewelry, home decorations, key chains, photo frames, and much more. The only limit is your imagination! In addition, self-hardening clay allows for very fine and detailed finishes, which is ideal for making precise and neat projects.
In summary, self-hardening clay is a versatile and practical crafting material that is suitable for both children and adults. It allows for economical and precise creations without the need for a kiln to bake, and air dries in just a few hours.