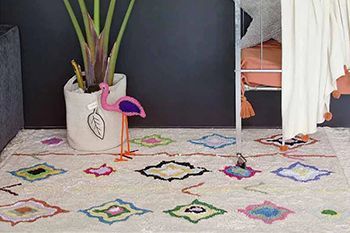 Decorative rugs
Discover our wide selection of washable cotton rugs! Our rugs are available in a variety of colors, patterns, and shapes to fit every taste and space in your home. The Lorena Canals brand is known for its commitment to quality and durability. Each rug is carefully handcrafted! The rugs are 100% cotton and are machine washable for easy and practical use in your home.
Berber rugs for a bohemian decoration
 Find your bohemian rug from our selection! Berber rugs have become a popular home decorating trend in recent years. Their bohemian, handcrafted look blends perfectly with modern, warm decorating styles, adding a touch of originality to any space. Their geometric patterns, soft colors and gentle textures create a comfortable and welcoming atmosphere. Berber rugs are versatile and can be used in living spaces, bedrooms and even offices. They bring a touch of authenticity and character to any interior!
Children's bedroom carpet
In addition to their appearance and quality, our Lorena Canals rugs are also practical and easy to maintain. Cotton rugs can be easily machine washed, making them ideal for children's rooms where accidents are common! They are also very practical if you have pets. Discover all our Rugs for children to decorate their space!
Round carpet, living room carpet...
We also offer rugs in a wide variety of shapes, including round, rectangular, and more original shapes (heart, sheep, water lily, fish...). Whether you're looking to add a touch of originality to your living room with an unusually shaped rug or to add a touch of elegance to your bedroom with a round rug, we have what you need. Browse our selection and find the perfect rug to complement your home.
Early learning and play mats
Play mats are a must-have accessory for babies. They provide a comfortable, safe and stimulating play space for toddlers. Our Lorena Canals playmats are made with high quality GOTS certified materials to ensure that they are environmentally friendly and healthy for babies. Our mats meet the safety standards for children's toys. Lorena Canals play mats are made from natural materials and dyes to avoid any risk of allergy or irritation to babies' sensitive skin. Discover also our Montessori games and toys to develop children's motor skills!