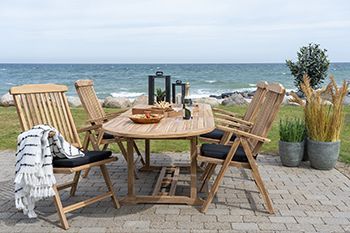 Garden tables

Find our selection of garden tables! We offer a wide variety of outdoor tables: round, square, rectangular, steel or wood... Whether you have a large garden or a small balcony, we have the table you need
Wood and metal garden tables
Our wooden garden tables are made from weather-resistant solid wood, making them perfect for outdoor use. With different stains and finishes, you can find a table that suits your taste and garden style. Steel tables are designed to last and withstand the elements, while offering a stylish industrial look.
Scandinavian and Modern Outdoor Tables
Our House Nordic line of garden tables is available in a variety of sizes and shapes to fit your needs and the size of your outdoor space. Square, rectangular and round tables are available in a variety of sizes to fit both large patios and balconies. Our selection includes large, expandable wooden tables to invite all your friends and family, or small side tables for 2 people, suitable for smaller spaces. We also offer sets with matching chairs and armchairs to create a perfectly coordinated garden ensemble.