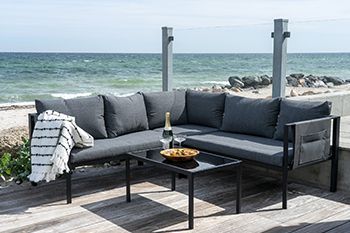 Garden lounge set

Are you looking for a modern and elegant garden furniture to furnish your terrace? Find yours among our selection!
Modular garden furniture
If you're looking for practical garden furniture that can be adapted to any space, we've got just what you need! Our modular garden furniture is made up of several parts that can be assembled according to your desires or needs. You can create a large corner sofa to invite all your friends and family or create large recliners to enjoy the sun. As a bonus, all parts fit together to easily store your furniture during the winter.
Where can I find modern garden furniture?
Our outdoor furniture collection contains a variety of modern garden furniture designs! Made of steel or polyrotin, our garden furniture is durable and resistant to the elements. You can complete your garden furniture with our garden chairs and lounge chairs. We also offer wooden benches and stools for additional seating on your deck.