Back

Creative baking

Cooking utensils

Aides à la pâtisserie

Emporte-pièces

Aides à la pâtisserie

Douilles

Aides à la pâtisserie

Aides à la pâtisserie

Food colourings and flavours

Colorants naturels

Color'aromes

Arômes

Feutres

Arômes

Arômes

Cake decorations

Glaçages et fondants

Azyme

Paillettes comestibles

Paillettes comestibles

Paillettes comestibles

Creative leisure

Customization

Punch Needle

Point Noué

String Art

Tricotin

Attrapes-rêves

Children's activities

Bougies

Perles à repasser

Plastique fou

Pyrogravure

Pyrogravure

Jewelry

Colles

Embossage

Plumes

Pompons

Scrapbooking

Bullet Journal

Stickers

Carnets & Agendas

Feutres et stylos

Tampons

Tampons

Stationery

Stickers

Formes découpées

Etiquettes

Papiers

Papiers

Sizzix et Happycut

Sizzix et Happycut

Sizzix et Happycut

Matrices & Dies

Matrices & Dies

Haberdashery

Trends

Simili cuir

Thermocollants

Ecussons

Biais

Biais

Sewing

Fils

Fils

Fils

Echevettes

Echevettes

Echevettes

CUSTOMIZATION

Tricotin

Teintures

Suédine

Teintures

Pompons

Teintures

Modeling

Kits

Patagom

Modelling pencils

Pâte à modeler

Bijoux

Patagom

Polymer clay

Poudres métalliques

Tapis et plaques de texture

Moules

Moules

Outils de modelage

Outils de modelage

Molding and accessories

Plâtre

Béton

Béton

Béton

Homemade

Create your own cosmetics

Create your own cosmetics

Make your cleaning products

Make your cleaning products

Make your cleaning products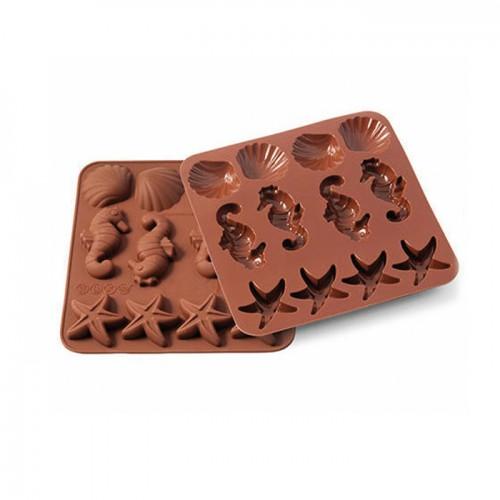  
Silicone Underwater life Chocolate Mold
---
---
Make chocolates or cakes on the theme of underwater life with this silicone mold Silikomart to make seashells, seahorses and starfish.
---
Secure payment (encrypted data)
Free delivery from 60€
Satisfied or refunded (within 30 days)
This silicone mold allows you to make small chocolates on the theme of underwater life.
Silikomart has designed a professional grade silicone mold that will also allow you to make sweets or cakes with.
The chocolate mold on the underwater life allows you to make 4 shells (scallop shells), 4 seahorses and 4 stars of sea.
Each marine decoration measures approximately 4.1 x 3.6 cm.
To get colored chocolates, you just have to melt white chocolate and use fat-soluble dyes.
This mold resists temperatures from -60 to + 230 ° C and is used in the oven, microwave or freezer.
Size of the mold: 15 x 15 x 1.2 cm.
Free delivery in France from 60€
Delivery method
Delivery time
Costs
Postal service (home delivery)
3 to 4 business days
from 4,90 € to 5,90 €
(offered from 60€ of purchases)
Express (DHL)
1 to 2 business days
from 11,50 € to 12 €
Free delivery in Europe from 60€
Delivery method
Delivery time
Costs
Postal service (home delivery)
7 to 12 business days
from 5,50 € to 11 €
Chronopost
2 business days
from 11,9 € to 13 €