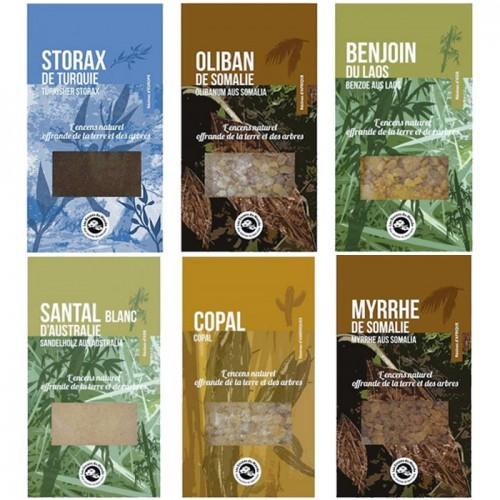  
Incense resins box
6 incense resins to burn: benzoin, myrrh, storax, frankincense, sandalwood, copal
This set of 6 brand resins Incense from the World each have a single virtue, an exotic and special scent.
The benzoin Laos is known for its properties bringing luck, optimism and purity.
This resin extracted from Styrax tonkinensis, releases scents of vanilla, amber and warm.
Packet of 20 grams.
The Copal is known for its cleansing and protective properties.
This resin which develops a delicious fragrance of pine and lemon marriage, is extracted from Bursera spp.
Bag of 30 grams.
The mixture of Sandalwood White Australia is known for its relaxing properties and its ability to generate meditation and prayer.
This powder white wood Sandalwood Western Australia is rich in santalol.
The powder will burn slowly and smoke make a decorative shape.
Bag of 25 grams.
The Frankincense, sacred resin is harvested from a growing sacred tree in Yemen, Africa and India.
On the psychological level, it helps to develop willpower, confidence and determination.
Bag of 50 g.
Myrrh resin extracted from a shrub of Arabia (Balsomodendron myrrha or balsam), promotes the awakening of the feminine qualities, responsiveness and greater sensitivity to the realities of the outside world.
40 g sachet.
Storax, the fragrance substance both resinous and floral, is extracted from Styrax officinal Styrax officinalis.
It promotes a sense of responsibility, constancy, loyalty.
The resin, a beautiful yellow color is obtained by incision of the trunk.
In pharmacy, or styrax styrax balm is effective against diseases of pulmonary tract and some skin diseases.
Bag of 20 g.
16 other products in the same category: