DIY : Macrame pacifier clip
Never lose your toddler's pacifier again with this pacifier clip! It is very simple to make, the only prerequisite is to know how to make knots! 
Material :
1. Cut two pieces of yarn about 1 m long and fold them in half. Attach your pacifier clip so that it does not move.
2. Take your first yarn and pass the folded part through the loop of the pacifier clip. Pass both ends of your yarn through the loop thus created and tighten.
3. Do the same with the second yarn. You then get four yarns of the same size attached to the pacifier clip.
4. Place the right-hand thread away from the other threads. With the left-hand thread, form a 4 by passing over the two middle threads.
5. Fold down your right-hand thread by passing it over the left-hand thread.
6. Pass your right-hand thread under the two middle threads and bring it out in the loop of the 4. Tighten to get a knot.
For steps 7, 8 and 9, repeat the same knot in reverse: place your right-hand thread in the shape of 4 and bring out the left-hand thread in the loop.
Continue to tie knots by alternating the threads until you get the length you want for your pacifier clip.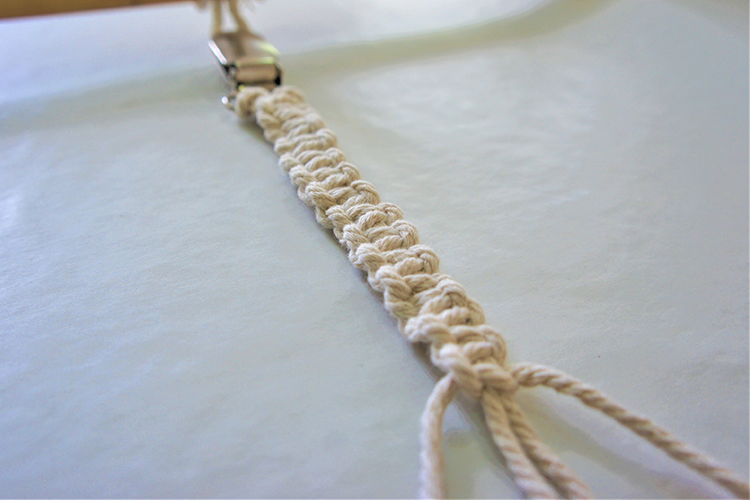 Finish with a knot to attach the pacifier.