DIY: Make your robot powered by salt
This robot powered by salt water is most intriguing!
Find out how to make your own little robot and make it work without a battery!
Material:
- Salt (not supplied)
- Water (not provided)
- Small glass (not supplied)
Construction :
Hook the robot arms to the robot trunk and add the pivot.
Press the wheels into the frame.
Assemble the trunk and the frame.
Install the robot head on the trunk by hooking the cables (red at the top, blue at the bottom).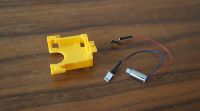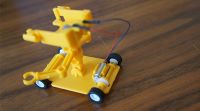 Insert in the battery charger (included in the discovery box), the magnesium sheet, then the fabric sheet and the leather sheet.
Cut out the bag containing the charcoal and pour it into the small plastic bowl. Use the measuring spoon to pour the charcoal into the battery charger (the cartridge must be filled).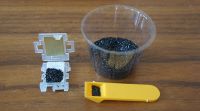 Close the feeder cover and close the clips on the sides.
Install the charger above the robot head.
Place the screws in the holes that will form the eyes.
Pour about 2 cm of water into a glass, add salt and stir.
Pour a few drops of salted water, via the pipette, into the charger using the small hole in front.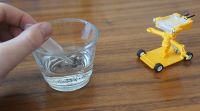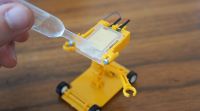 The robot's wheels are spinning!
If not, you can:
- Add a few drops of salt water,
- Help the wheels to turn to start the engine,
- Check that the plates do not touch each other,
- Re-insert the charger
- Check if the wire terminals are in contact with the plates, if not, twist them slightly.
Your robot now works without a battery! Have fun !