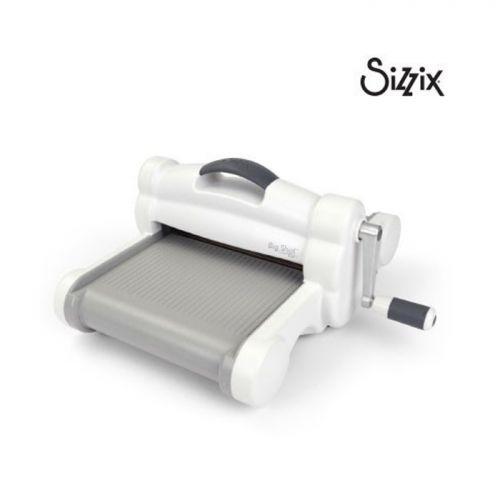  
Sizzix Big Shot Plus A4 Cutting Machine
Sizzix scrapbooking cutting machine
Discover the Sizzix Big Shot Plus A4 starter kit, ideal for scrapbooking or card decorating.
With this machine you can emboss or stencil a large number of materials, such as paper, felt, fine metal Rubber foam.
With the beginner kit, use the machine immediately.
The Big Shot plus A4 from Sizzix will allow you to cut and emboss different materials such as card stock, leather, crazy plastic, fabric, felt, magnet sheets, etc.
(Be careful never to exceed a thickness of 1 mm).
Thanks to its stability, it can cut large formats, up to 15 cm wide.
It works with cutting stencils (Bigz, Dies, Sizzlits, Embosslits, Framelits) and embossing of different brands thanks to the "Multipurpose Platform".
To use your cutting stencil with the big shot sizzix, it's very simple:
Place one of the two clear plastic plates on your worktop.
Place the cutting die.
Place your card stock.
Place your second clear plastic plate to form your sandwich.
Place the assembly on the big shot machine, and turn the crank clockwise to advance the assembly through the machine.
Remove everything at the other end of the machine, and collect your card stock.
You just have to delicately remove your paper shape!
It comes with:
1 BigShot A4 machine,
1 BigShot Platform to be able to pass all the dies and embossing stencils of all brands, any thickness,
A pair of Standard A4 cutting plates,
Adapter A,
Adapter B,
1 Die Bigz L,
1 Framelits Die cutting shape,
12 Thinlits Dies cutting shapes,
10 sheets 5.5 x 6 cardstock double-sided My Life,
1 fabric kit,
4 cardstock sheets A4 My Life,
1 manual.
Practical information on the Big Shot Sizzix: to use fine stencils like happycut, it is necessary to acquire in addition the following elements available separately: The solo adapter for die end, the black silicone mat (necessary for embossing) and the black plate (necessary for embossing).
Colors: White and gray.
Dimensions of the machine: 42.6 x 29.4 x 24.1 cm.
5 other products in the same category: