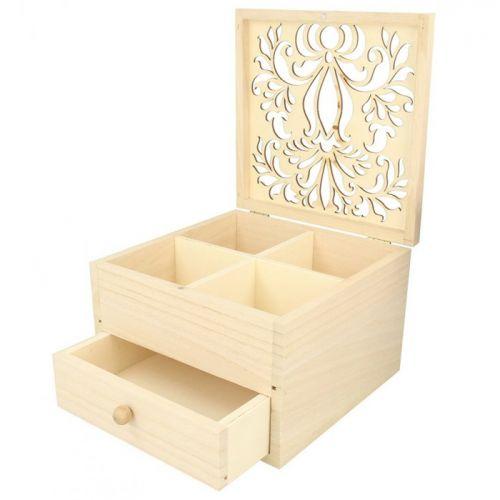  
DIY Wooden jewelry box 16 x 16 x 10 cm
Wooden jewelry box with openwork lid.
This jewelry box dimensions 16 x 16 x 10 cm is to customize and decorate according to your tastes and your interior decoration!
The lid, fixed by two hinges in gilded metal, lifts to discover 4 square compartments of 7 x 7 cm for your pearls, rings, earrings.
Below a drawer 13.4 cm x 14 cm (inner dimensions) can receive your larger jewelry: brooches, pendants, necklaces, bracelets.
The box is designed by Artemio according to the inspiration of the Secret Garden collection.
In untreated light wood, the box is ideal for your imagination: to decorate with stencils, masking tapes, stamps, mosaic or paint.
16 other products in the same category: