Back

Creative baking

Cooking utensils

Aides à la pâtisserie

Emporte-pièces

Aides à la pâtisserie

Douilles

Aides à la pâtisserie

Aides à la pâtisserie

Food colourings and flavours

Colorants naturels

Color'aromes

Arômes

Feutres

Arômes

Arômes

Cake decorations

Glaçages et fondants

Azyme

Paillettes comestibles

Paillettes comestibles

Paillettes comestibles

Creative leisure

Customization

Punch Needle

Point Noué

String Art

Tricotin

Attrapes-rêves

Children's activities

Bougies

Perles à repasser

Plastique fou

Pyrogravure

Pyrogravure

Jewelry

Colles

Embossage

Plumes

Pompons

Scrapbooking

Bullet Journal

Stickers

Carnets & Agendas

Feutres et stylos

Tampons

Tampons

Stationery

Stickers

Formes découpées

Etiquettes

Papiers

Papiers

Sizzix et Happycut

Sizzix et Happycut

Sizzix et Happycut

Matrices & Dies

Matrices & Dies

Haberdashery

Trends

Simili cuir

Thermocollants

Ecussons

Biais

Biais

Sewing

Fils

Fils

Fils

Echevettes

Echevettes

Echevettes

CUSTOMIZATION

Tricotin

Teintures

Suédine

Teintures

Pompons

Teintures

Modeling

Kits

Patagom

Modelling pencils

Pâte à modeler

Bijoux

Patagom

Polymer clay

Poudres métalliques

Tapis et plaques de texture

Moules

Moules

Outils de modelage

Outils de modelage

Molding and accessories

Plâtre

Béton

Béton

Béton

Homemade

Create your own cosmetics

Create your own cosmetics

Make your cleaning products

Make your cleaning products

Make your cleaning products

Events

Tropical Party

TROPICAL PARTY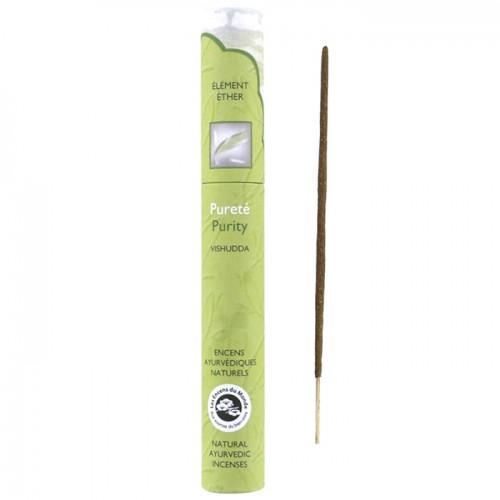  
16 natural Ayurvedic incense sticks - Purity
---
---
16 natural Ayurvedic incense sticks Purity with soothing flowers aromas Michelia champaca, clove and myrrh.
---
Secure payment (encrypted data)
Free delivery from 60€
Satisfied or refunded (within 30 days)
The composition of the range of Indian Ayurvedic incense follows the techniques of ayurveda (traditional medicine) and intervenes on the 7 vital centers, the chakras.Purety incense sticks are perfect for the throat chakras (vishudda).
The flower, Michelia champaca, clove and myrrh, is a mixture of spiritually purifying properties, illustrating the Ether element, an incense with sweet and refreshing aromas that will suit your bathrooms perfectly.
Also to be used for meditation or yoga.
Michelia champaca is a flower originating in Tibet whose essential oil is also used in luxury perfumery.
A flower with heady and honeyed accents that combine with spicy clove and myrrh.
The Ayurvedic purity" incense corresponds to the Ether element and the chakra of the throat (speech, communication).
An incense made in Karnataka, India, using the so-called "dry masala bhattis" method, hand-rolled sticks on thin bamboo stems.
Smoke 2/5.
Duration of a stick: 25 minutes.
Data sheet
Type :

Incense

Brand :

Les Encens du Monde

Preference :

Natural

Preference :

Cruelty Free

Length (cm) :

18

Height (cm) :

18

Width (cm) :

0.5
Free delivery in France from 60€
Delivery method
Delivery time
Costs
Postal service (home delivery)
3 to 4 business days
from 4,90 € to 5,90 €
(offered from 60€ of purchases)
Express (DHL)
1 to 2 business days
from 11,50 € to 12 €
Free delivery in Europe from 60€
Delivery method
Delivery time
Costs
Postal service (home delivery)
7 to 12 business days
from 5,50 € to 11 €
Chronopost
2 business days
from 11,9 € to 13 €