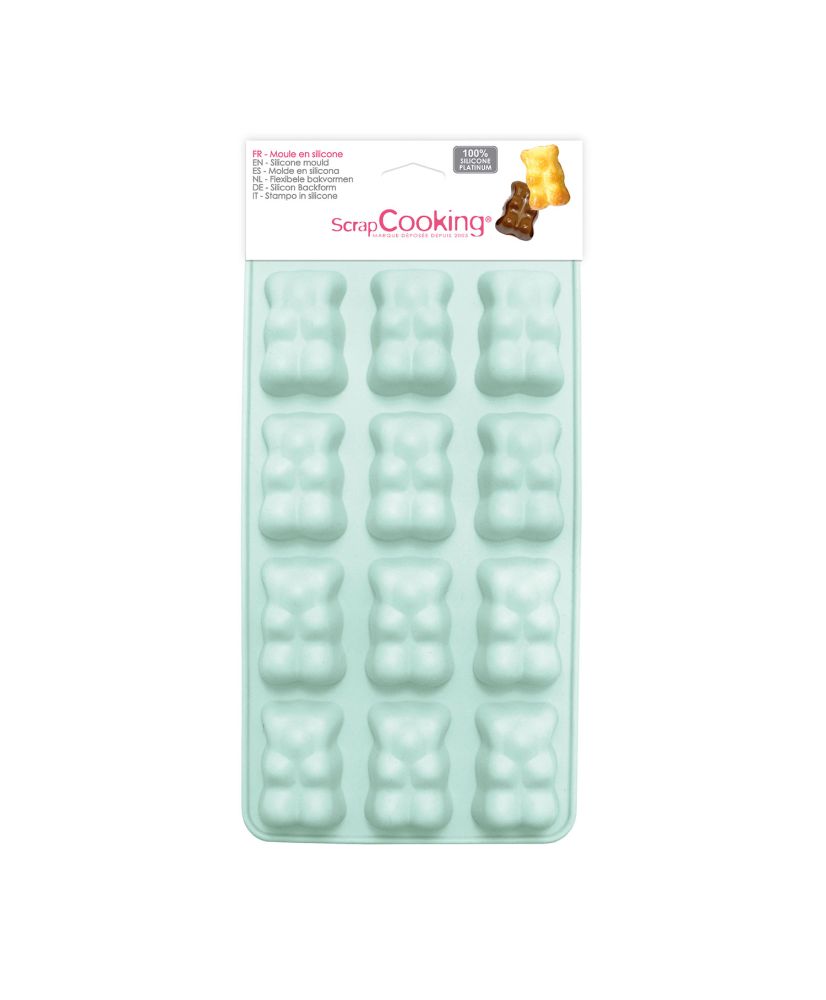  
Chocolate silicon mould - Bears
15 chocolate molds to manufacture marshmallow bears covered with chocolate.
Go back to childhood with the famous chocolate and marshmallow teddy bears thanks to the Scrapcooking silicone mould. In no time at all, you will be able to make your own little bears.
To make your own homemade marshmallow bears, you need :
- 1 bar of chocolate of the taste you want: white, milk, praline or dark.
- 1 jar of mini-marshmallows to melt if you don't want to make your marshmallow.
First of all, melt your chocolate bar in a bain-marie, without adding anything to it. The chocolate must remain "pure".
Pass a first layer of melted chocolate into your teddy bear mould with your food brush, taking care not to leave any part of your teddy bear uncovered. This will ensure a perfect shell of your teddy bear when removing the mould and tasting it.
Then put your mould in the fridge and in the meantime prepare your marshmallow.
Once it is ready and the chocolate is well set in your moulds, insert the marshmallow with a piping bag into your teddy bear moulds. Leave about 2mm to cover with your second layer of chocolate.
Then leave it to set in a cool place for a good hour and remove it gently from the moulds. Your chocolate and marshmallow bears are ready! 

Data sheet
Material :

Silicone

Type :

Mold

Brand :

ScrapCooking

Product dimensions :

26 x 13 x 2 cm

Origin :

Europe

Length (cm) :

26

Height (cm) :

2

Width (cm) :

13
steavisgarantis
steavisgarantis
8/10

steavisgarantis 1 steavisgarantis
In Ordnung (steavisgarantis)
16 other products in the same category: