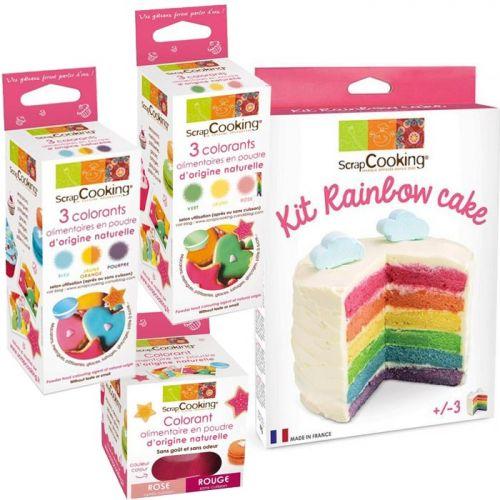  
Rainbow cake kit + 7 food colourings
Rainbow cake kit and 7 dyes
Preparation kit for rainbow cake.
Make your rainbow cake with this kit of preparation and these 7 coloring powders in the colors of the rainbow!
The Rainbow Cake is a colorful 6-story cake.
The kit allows you to prepare about 3.
It consists of: 4 bags of yeast colored 10 g pink, yellow, green and blue, 1 plastic measuring spoon suitable for food contact, 7 food coloring of natural origin powder (red, green, yellow, purple, orange, blue, fuchsia pink) and the complete instructions on the back of the box.
Yeast Ingredients: baking powder, wheat flour, colorants: E122 * (pink); E102 * (yellow); E102 *, E131, E132 (green); E132 (blue).
Ingredients of natural dyes: Green dye: Chlorophyll powder, Yellow dye: Turmeric powder, Red dye: Carmine powder, Blue dye: Spirulina concentrate, Maltodextrin, Orange dye: Paprika, Maltodextrin, Natural tocopherols (E306), Modified starch (E1450), DATEM (E472e), silica (E551) (0.2%), natural extract, rosemary extract (E392), purple dye: anthocyanin extract, maltodextrin, silicon dioxide (1%).
May contain traces of nuts, gluten, eggs, milk, sesame seeds, lupine, soy.
* May have adverse effects on children's activity and attention.
Made in France.